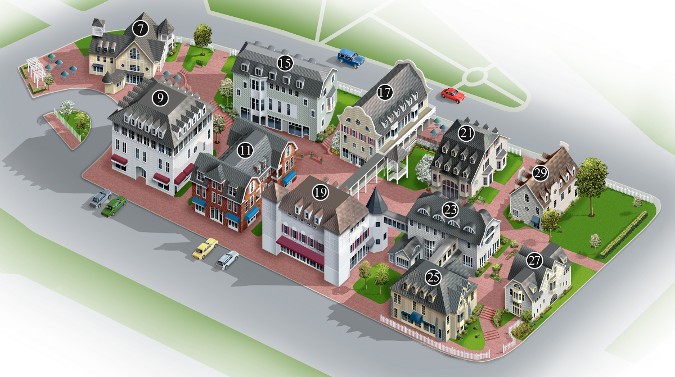 About
The Village Commons, located in South Hadley, Massachusetts, is a unique cluster of whimsical and architecturally surprising buildings, spread over beautifully landscaped and meandering courtyards. A place where you can meet up with friends and neighbors in a live, work, eat and play environment. With numerous retail, restaurant and residential offerings all designed with community in mind. A design of buildings rooted in the tradition of an old New England town, just steps away from the Historic Town Green and the campus of Mount Holyoke College.
Designed by the noted Cambridge, Mass. architectural firm Graham Gund, winner of numerous awards, including multiple A.I.A. awards for excellence in design. With eleven multi-level mixed use buildings, The Village Commons has become more than a visual destination. It's a community network of close and inviting businesses that continue to provide a long term tradition of customer service and we are proud of the contributions that make The Village Commons an exciting destination.
The eclectic mix of small businesses include retail, restaurants, offices and two first-run movie theatres; with numerous well sought after residential units scattered throughout. The success of the residential living component continues to add further economic and social vitality to the center. People love living life here!
With visually stimulating courtyards and a variety of welcoming patio areas, patrons often come by to simply stroll, linger and enjoy the atmosphere. If you're not meeting up with your friends and neighbors to enjoy some of our highly rated food, a movie or our retail offerings, then you may be part of the crowd that routinely can be seen gazing at the many old New England features that make The Village Commons known for its innovative architectural style.
The success of the complex is a result of its businesses, its valued customer base and the dedication of the hundreds of employees who are here to assist you. Management is committed to providing exceptional customer relations and service, as it continues to adapt to the complexities of operating a very unique complex, in an evolving retail climate. As a destination of choice, the loyalty of our customer base has helped The Village Commons become one of the largest employers in the area, and generates more than 15 million in retail activity alone. Our village concept, couldn't be what it is today without you. For that, we thank you!
7 College Street
HUB International
Tailgate Picnic
9 College Street
Duro West African Cuisine
Darby O'Brien Advertising Agency
Levine, James & Associates
Odyssey Bookshop
11 College Street
New Main Moon Café
Ochoa for Hair
15 College Street
Aimee Kelly Crew
IYA Sushi and Noodle Kitchen
Ochoa Day Spa
PeoplesBank ATM
17 College Street
Chaffee-Helliwell Insurance (CHI)
Moxy Boutique
Village Commons Management Office
Serenity Yoga
19 College Street
Food 101 Bar & Bistro
Johnny's Tap Room
O'Connell Care at Home
Simmons College
South Hadley's Tower Theaters
Board & Brush Creative Studio
21 College Street
Allen Media
Bryarly Consulting
Loughrey, Robert
23 College Street
Johnny's Bar & Grill
Larochelle Construction
Private Client Services
Dr. Elizabeth Shea
Thirsty Mind Coffee & Wine Bar
Dr. Lisa Uyehara
25 College Street
Arts Unlimited Gift Gallery
Dunn, Marjorie Attorney
Murphy, Kevin Attorney
Smith, R. Scott DMD, Orthodontist
27 College Street
Coleman, Andrea LICSW
Integrity Women's Health
Lauder, Debra
Verdi-Cournoyer,Anna EdD,APRN,BC
29 College Street
Cadorette, Lou CPA
Kapinos, Paul S. & Associates
Kelly, Kathleen, Attorney at Law
KO-Lab
MetaComet Systems
Petrosky, Greg EdD
Valley Speech Services, LLC
Daniel Weinbaum, LICSW